For those of you who are too lazy to keep scrolling you can read my review of Crue Fest 2008 here.
This blog is strictly for the ladies!
LOL
!! Those of us suburban housewives and farm mommies who have that secret fantasy to be devoured by sweaty, tattoo covered rocker....Count me in!
It all started in 6
th
grade with Duff
McKagan
. When
Guns N' Roses
hit the scene all the girls went gaga for
Axyl
Rose....not me....I was
nutso
over the quiet, dirty, skinny bass player
In 1994 his pancreas exploded, yup exploded, nearly killing him, and his liver was failing. The doctors told him he had a month to live if he continued down that road. He had to get clean or die.
We had the chance to see Velvet Revolver in 2005 and girls, I am not joking a bit...that man is like a fine wine....this is what he looks like now:
Having kicked his alcohol and herion habit by adopting a very strict martial arts routine and zen lifestyle he was only about 20 feet from me in all his sweaty glory!!!! I told my husband I wanted to run on stage and just lick a little sweat off his chest!!! (Yes, hubby found this hilarious....he knows me well....LOL)
Developing a love for hard rock/heavy metal thanks to the debut of Guns N' Roses, I quickly discovered scores of other 'hair metal' bands I had been missing out on. (Hey a 12 year old girl from BFE with only 1 college radio station to hear rock music on, lives a sheltered life...) Along came Motley Crue. Of course they had been out for almost 10 years by the time I discovered them but whoooo boy! While all the ladies love Tommy Lee...this one included...I was once again drawn to the quiet bass player....with the heroin addiction....I am seeing a theme now that I look back...hmmm
Of course I couldn't go for the guys who just liked to sling booze and chase girls....nooooo....I was crushing on the guy who had literally
died
of a heroin overdose and somehow survived, only to be released from the hospital to go shoot up again....he woke up with a needle in his arm the next day...in my mind, clearly this guy was kept alive for a reason. Today he is clean and championing the cause for addicts. He published
The Heroin Diaries
and formed a band to create an accompanying soundtrack. He is, after all, a songwriter first and foremost, and no autobiography of him would be complete without music. They called themselves
Sixx

A.M.
Not expecting radio play or recognition, that's not what this project was about....but as fate would have it, they are hugely successful, with the message and the music touching thousands upon thousands of fans who have struggled with some sort of
addiction
, disease or disaster in their lives. He used to be an object of my desires....
ok
he still might be...but today he is one of my
heroes
!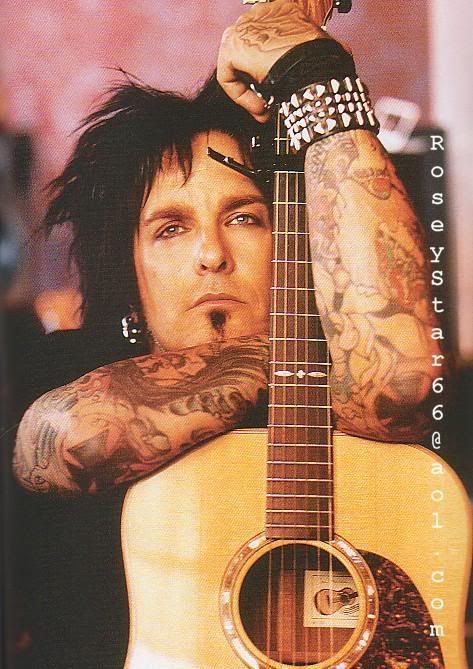 Oh and then there's Buckcherry's Josh.....Josh Todd.....mmmm my Lord. Maybe it's the tattoos. Maybe it's the Mick Jagger Swagger...maybe it's the razor sharp voice...maybe it's the adorable pictures of this tatted up rocker with his beautiful children...but once again I have a school girl crush on a dirty sweaty rock star!!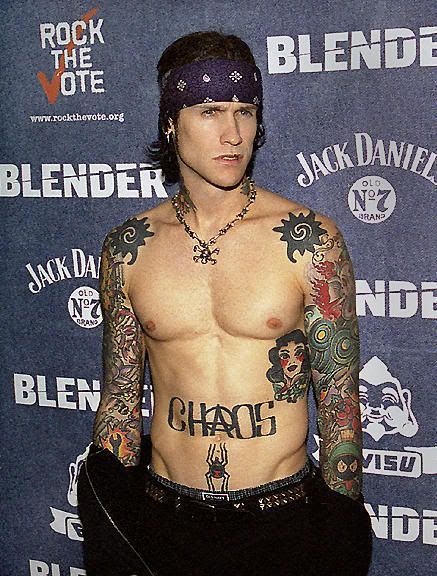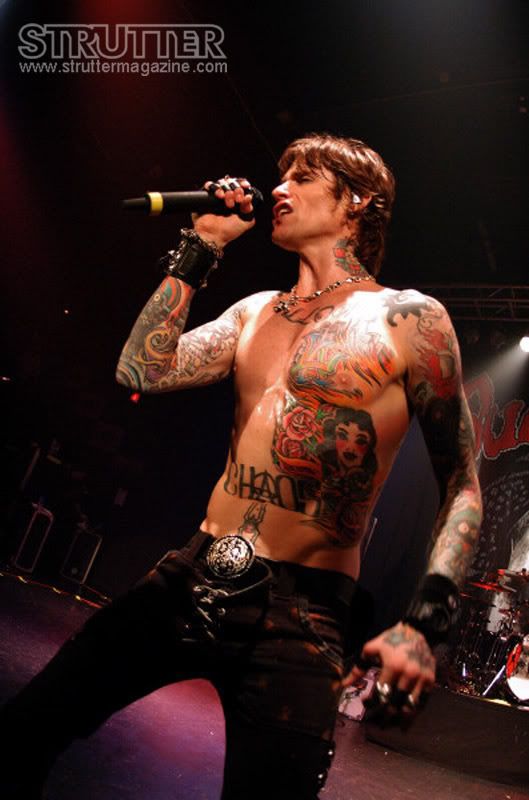 And he rocked my world Sunday night in St. Louis!!! I am still in pain.....it's hell getting old!